GOOD NEWS FROM AFGHANISTAN! – Mobile Mini Circus for Children
Winter Program in Kabul
300 underprivileged girls and boys mainly from the IDP (Internally Displaced Persons) camps of Kabul participate in our weekly winter program. The kids with their families left their homes and cities because of the war and are now living in a very harsh conditions in Kabul's IDP camps, some for many years. In our partnership project with WeltHungerHilfe (WHH) we provide psycho-social activities for the children to give them social skills, fun, strength to resist and a taste of childhood. The winter program classes includes physical and visual arts as well as some school classes and different social games.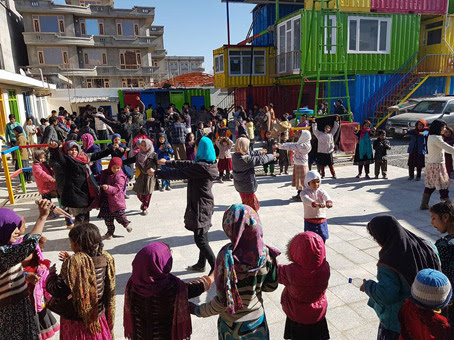 Winter Program in Bamyan
125 girls and boys are in our winter program in Bamyan with support of "Dignity for Children NGO". Theater, singing, juggling, acrobatic, unicycle, stilts, and children assembly are among the main winter program activities in Bamyan. We have had very good feedbacks from both children, parents and the authorities about the winter activities. These activities in the Central Highlands of Afghanistan's harsh winter brings so much of joy and hope with creativity and capacity building of the children.
Hygiene Show and Workshop in Khost
After our very successful project supported by UNHCR in Khost last year, we keep having an active presence in this region (Eastern province of Afghanistan). Once Social Circus is introduced in any place, it is easier to follow up and difficult for us and the children to stop it. One of our performing teams, in February made 8 hygiene performances for over 1200 of girls and boys in this region, teaching them the importance and proper instruction of washing hands. The performances are supported by "Solidarity" the Italian NGO and incorporates the hygiene messages with big hand props in a circus show so the kids will never forget it in their entire life.

Winter Program in Herat
In Herat (Western province of Afghanistan) we had another winter program for 300 children. The program included different physical arts and social circus activities as well as some different formal education subjects and children assemblies. In the final graduation day of the winter program, the officials from the ministry of education as well as the community leaders participated. We are so happy to see our activities are fully integrated and welcomed by the local authorities.